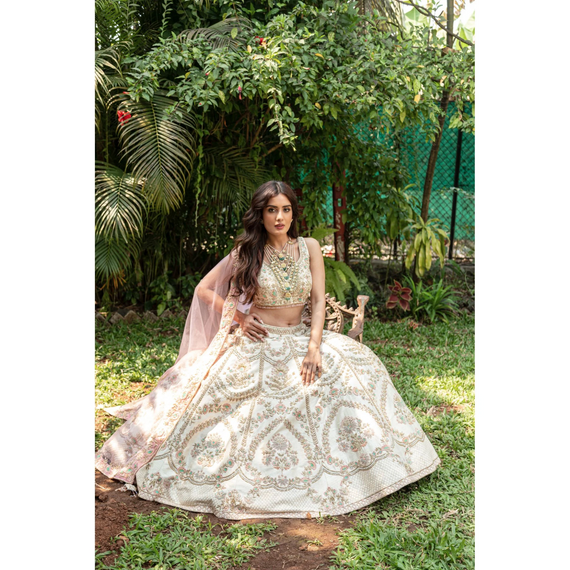 An engagement ceremony kicks off all the wedding festivities in Indian marriages, and it is the start of a lifetime commitment for both. In recent times, engagement has become no less than a...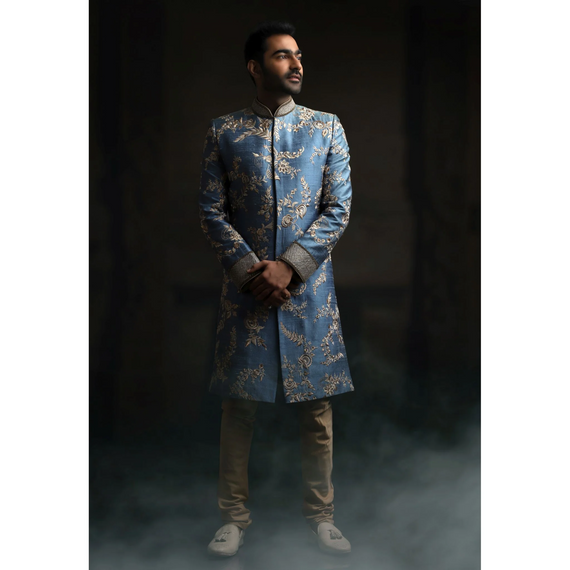 A sherwani is an elegant piece of men's clothing that has stood the test of time. It has been worn by men of all ages for centuries. The marriage wedding sherwani with elaborate...
---
About US
Jiya by Veer Design Studio: An Amalgamation of Culture and Sophistication
The allure of ethnic fashion is rooted in Indian history and has an intrinsic connection to the spirit and culture of festivals and celebrations. At Jiya by Veer Design studio, we admire and accentuate your ethnic spirit and curate our assortment that will please your Indian heart. We aim to amplify and reveal the beauty within by enhancing it with our incandescent ethnic as well as Indo western dresses for wedding and other events. Find your style for every story at Jiya by Veer Design Studio and grace the occasion with your awe-inspiring personality!
Range of Ethnic Wear Offerings for Women
Jiya by Veer Design studio, a fashion label characterised with a minimalistic, elegant and aesthetic style, was concocted to meet the modern Indian woman's demand for an ethnic closet that respects her conventional needs while adding a contemporary touch. Our phenomenal assortment includes a plethora of gowns, kurta lehenga sets, lehenga sets and much more in an array of spellbinding hues and intriguing designs which graces the adorner with a distinct appearance which is truly unmatched!
Men's Marvellous Ethnic Clothing Assortment
There is much more eclectic, elegant and suave to explore in ethnic wear for men. We at Jiya by Veer Design Studio offer traditional and uber-stylish ethnic apparels for men that will help you rock your traditional events with grace and flair whether it be in a flaunt-worthy kurta or a sherwani. Indeed, this ethnic season, let it all be about a motley of enchanting hues, whimsical designs, breathtaking prints and patterns and all-round comfort!
Unmatched and Uncompromised Product Quality
Our ethnic apparel selection is unrivalled in terms of quality. We only utilise high-quality fabrics in our designs, which are adorned with stunning motifs that showcase our craftsmanship and artistic talent. We believe 'Quality is not an act, it is a habit' and hence adhere to the commitment we give to our customers. When you are hunting for ethnic wear for women or men at Jiya by Veer Design Studio, be assured that you will never have to compromise on the quality factor.
Abode of Voguish Shades and Designs
Any Indian celebration would be incomplete without the glitz of traditional dress for men and women. Jiya by Veer Design Studio will satisfy your quest for any kind of ethnic apparel, whether you choose subtlety or flamboyance, mild colours like beige and salmon-pink, or the dazzle of scarlet and fuchsia or even heavy to light embellishments, there is a lot more to discover than you imagine! Our stunning assemblage includes a variety of lehengas, saree gowns, kurta sets, kurta lehenga sets, sherwanis, bandi sets and much more in a variety of enticing colours and quirky designs that give the wearer a distinct appearance that is really one of a kind! Only the softest fabrics are used to create our garments, guaranteeing that we never sacrifice your comfort while allowing you to indulge in your passion of ethnic fashion on any occasion!